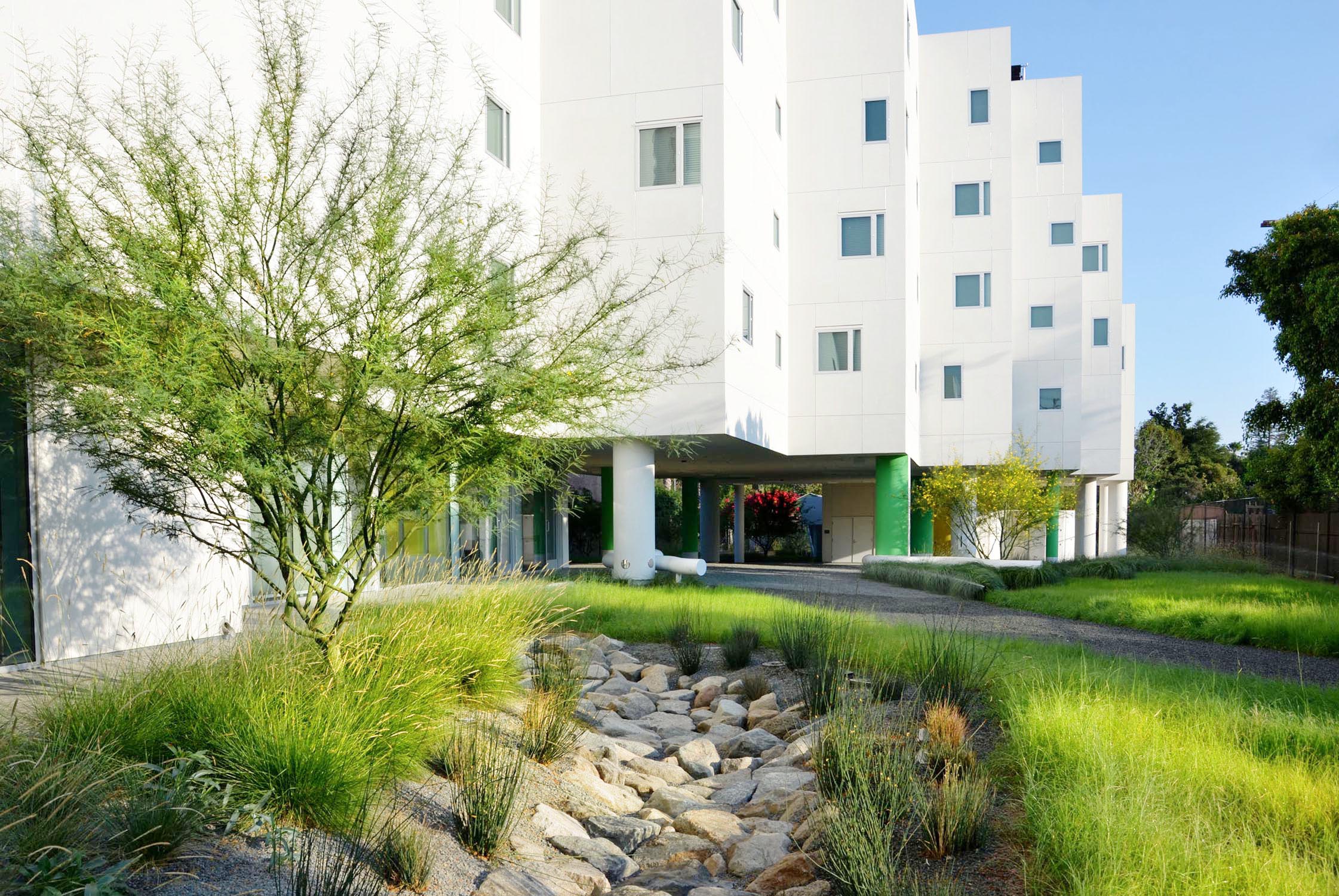 LOCATION Van Nuys, CA
TYPE 64 units of housing and supportive services for formerly homeless veterans surrounded by community gardens including parking and fire lane
SIZE 45,000sf building | 22,500sf landscape
PROJECT TEAM Skid Row Housing Trust, Michael Maltzan Architecture
AWARDS 2015 AIA SFV Honor Award
2016 ASLA Southern California Award
2017 Certified LEED Platinum for Homes
2017 AIA LA Residential Design Affordable Housing Award
2017 Los Angeles Business Council Award of Excellence
2017 AIA CC Residential Award
2017 AIA LA Honor Award
2018 AIA National Housing Award
2018 IIT Mies Crown Hall Prize Nominated Works
2018 American Architecture Award, Crest Apartments
LINKS Crest Apartments Grand Opening
CREST APARTMENTS
Crest Apartments in Van Nuys, CA transforms an existing open lot in suburban Los Angeles into a 64-apartment complex for formerly homeless veterans. The client's permanent supportive housing model includes individual efficiency apartments and on-site social services and community spaces that support the highly vulnerable residents and provides the most effective means of ending chronic homelessness.
The building's arching form stretches the length of the site, creating a sheltered courtyard with tiered terraces above that include open-air outdoor corridors and an expansive ground level landscape zone. The low points of the mass touch down at both the front and back of the site, ensuring a strong volumetric relationship to the smaller scale single-family residences behind the property and the larger commercial facades running along the boulevard.
The architecture and landscape design form a symbiotic relationship that creates a restorative parallel between the site and its users. The ground plane is conceived of as an unified field, a flexible surface of various thicknesses that restores the site as a native field which supports multiple programs, uses, and functional code requirements. Parking, fire lane requirements, and desired program uses mix and overlap to form an expansive informal green space for residents-activity and dining terraces, community gardens, outdoor gym, and passive recreational space. By integrating multiple permeable pavement systems that withstand various loads, the demarcation between hardscape, softscape, and functional requirements are blurred to create an interchangeable woven ground surface.
The project captures and treats 100% of the site's rain water providing a major benefit to the local environment and city infrastructure. Roof rainwater is directed and filtered through two bioswales and infiltration trenches. The remaining site open to sky is completely pervious and absorbs all rain water which recharges the ground. Through the extensive use of native drought tolerant and low water plantings, the projected irrigation use is 37% lower than the 2014 California state water allowance and will be primarily for plant establishment. MMA collaborated with landscape architect Tina Chee while at swa. She is the landscape design author to completion and continues to monitor its' post occupancy progress for Skid Row Housing Trust.